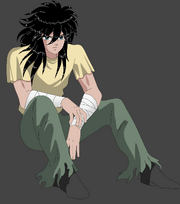 Pelathon is the son of Hades and a mortal Feyja
Background
Edit
Hades fell in love with a mortal woman named Feyja, who bore his son Pelathon.
Some day, Pelathon met Hades' ex-wife Persephone, and she treat like a mother for him.
They met often, but Hades noticed her meetings and take his wife and son to Elysium.
But when the titans were freed once more, Athena used Pelathon as a seal to bring Kronos down. Hades nearly destroyed Athena, but vowed to make her suffer for all eternity.
As Hades taking over the titans and sending them to destroy Olympus and Earth, Kronos still took Pelathon's body in order to confuse Hades so that he may have the upper hand.
Before Kronos could go back in time, Kairos, his forgotten brother, managed to weaken him and asked Athena to seal Kronos into him. Athena did as he said and sealed Kronos and his Megas Drepanon into Kairos's body, so the two brothers could battle each other for all eternity Pelathon was saved. Hades managed to find peace with the Olympians, with the encouragement from his son. He released Demeter from her prison and agreed to be with peace under certain conditions. Persephone was to be with him for all eternity; two, no Olympian was to enter his realm without permission; the last request was to make Pelathon immortal so that he may live with his family.